Whatever the radio, we can provide a way to carry and protect it.
With over 40 years' experience in the design and manufacture of radio cases, Peter Jones has established an enviable reputation as a global leader in the sector.
Combining the latest technology with the skills of traditional craftsmanship, Peter Jones Radio Cases are renowned for their durability and reliability. As suppliers to emergency service providers across the world, our radio cases are made from the best quality materials and designed to withstand the toughest, most robust environments. All our cases are designed, manufactured and rigorously tested at our facilities in South Wales, UK.
Peter Jones' nylon and high-quality, durable leather cases offer secure, hands-free carrying of TETRA, digital mobile radios, Push-to-Talk and hybrid devices, while also protecting them from accidental damage and scratches. The leather carry cases, holsters and pouches are available in a choice of leather material depending on usage needs. The soft leather cases have a soft, nylon inner-lining and are ideal for office-based or light duties, while the medium-soft leather cases are flexible, stylish and offer day-long comfort. The firm leather cases are more rigid and are designed to withstand the rigours of heavy-duty, industrial use. The extra-firm leather cases come in best-quality leather and offer unyielding protection for extreme usage scenarios. For those who wish to avoid the use of leather products, nylon radio holsters and pouches are also available.
Peter Jones has radio cases, holsters and pouches for most major brands of radio including: Airbus, Boxchip, BroadNet, Calta, Entel, E-Tech, Funktel, Hytera, Icom, iPTT, Kenwood, Kirisun, Lugra, Lynx, Motorola, Rexon, Selex Communications, Sepura, Simoco, Tait, Telo Systems and Inrico.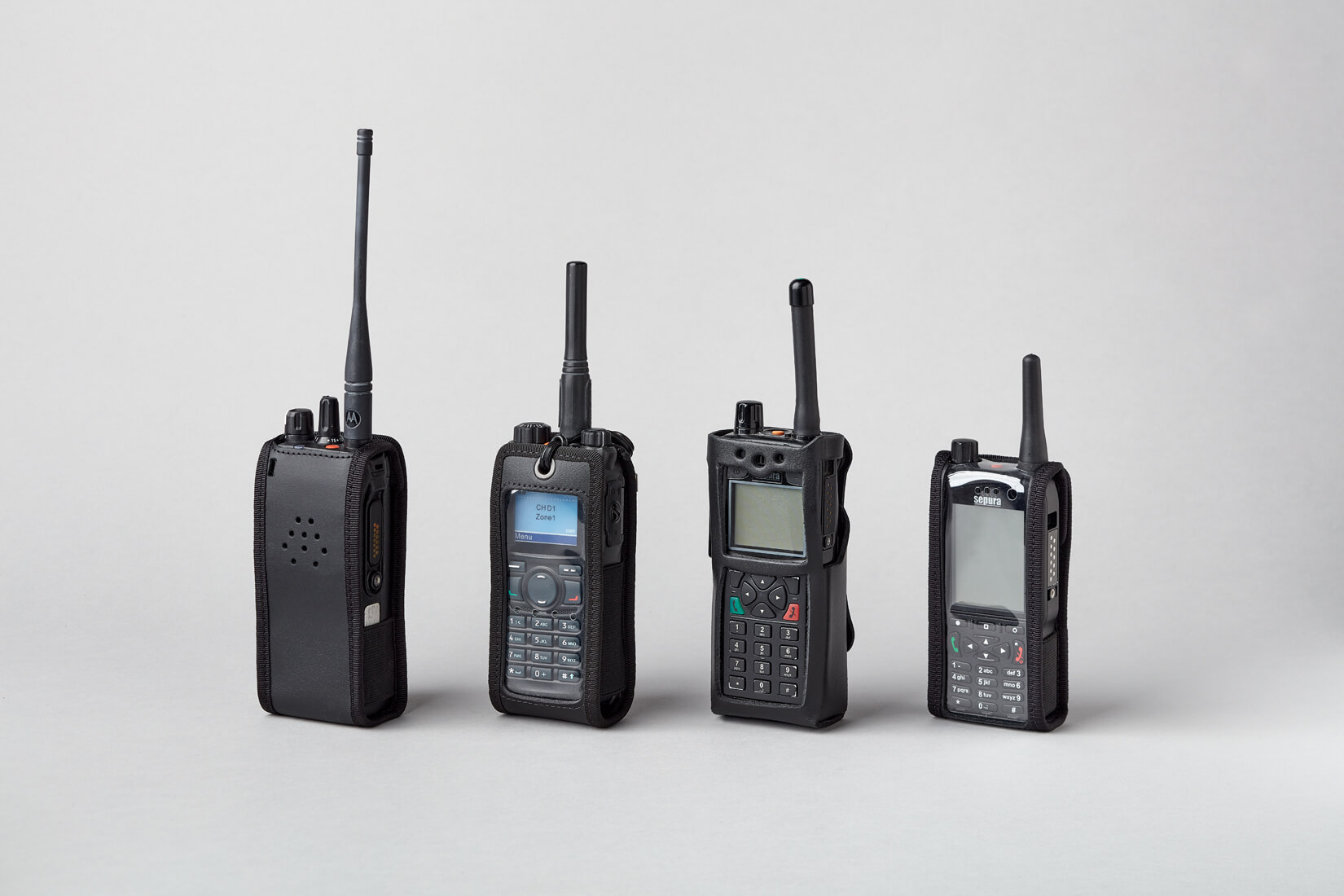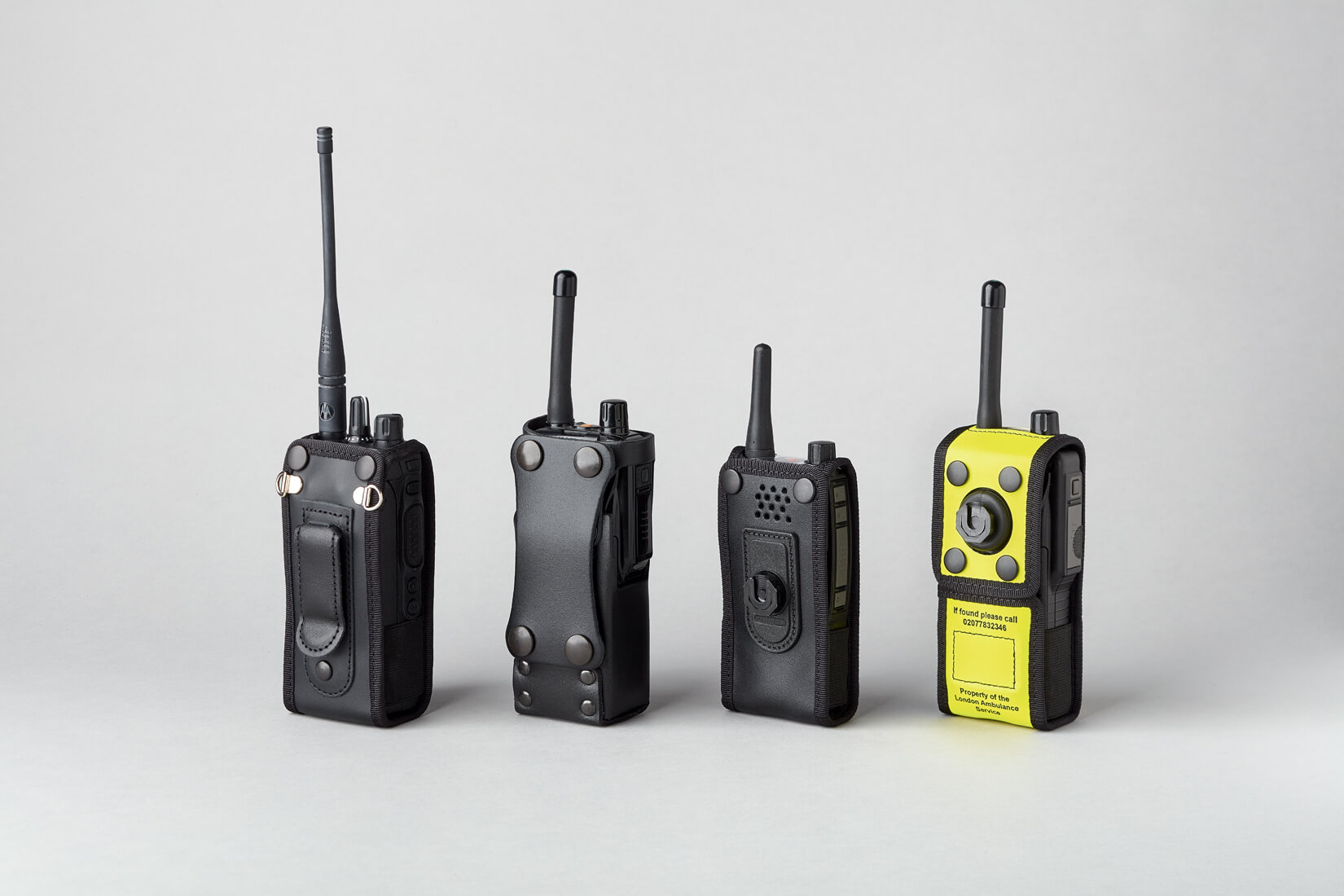 Product Features
Peter Jones' nylon, soft and medium-soft leather cases generally have elasticated sides to facilitate fitting and removal of the radio and to keep the device secure.
Nylon, soft and medium-soft cases can have a protective, clear PVC window(s) over the display and keypad. Radios without keypads or displays will generally feature holes or cut-outs in the leather so as not to obstruct speaker and microphone outlets.
Depending on radio design, radios can be secured in nylon, soft and medium-soft cases with press studs or retaining straps. Radios can be inserted into the case from the top, bottom or side, depending on design.
Full, unhindered access is provided to radios' buttons and controls, remote speaker connection ports, emergency buttons and antennae.
The firm and extra-firm leather cases have cut-outs in the leather for access to display and keypad. All controls, buttons, antennae, microphone and speaker outlets, and remote speaker microphone connection ports are fully accessible/uncovered.
Depending on the radio and case design, firm and extra-firm leather cases can feature retaining straps, as well as leather or clear PVC retaining flaps to secure the radio in the case.
All standard cases come with 2 D-Rings (additional D-Rings optional) for attaching to a shoulder or carry strap.
Firm and extra-firm leather cases can be supplied with fittings suitable for ATEX or "Intrinsically Safe" use.
Different size cases are available for when radios are used with either a slimline or a larger, high-capacity battery.
Uniform Attachment Options: Leather-covered metal belt clip for sliding onto belts and waistbands (soft and medium-soft leather cases only), press-studded, flat leather belt loop for secure fitting to belts up to 50mm in width, and Klick Fast Connector for mounting to any Peter Jones Klick Fast Dock attached to clothing or other surfaces. Cases with Klick Fast Connector can also be supplied with Klick Fast Belt Docks to suit either 32mm, 38mm, 50mm or 60mm belt widths. This provides flexibility in enabling the radio cases to be attached anywhere on the body as well as on belts.
Radio carry cases, holsters and pouches are available in a variety of colour options:

Nylon cases – black
Soft leather cases – black
Medium-soft leather cases – black, hi-vis yellow, hi-vis orange, red and blue
Firm and extra-firm leather cases – black, yellow, red and blue