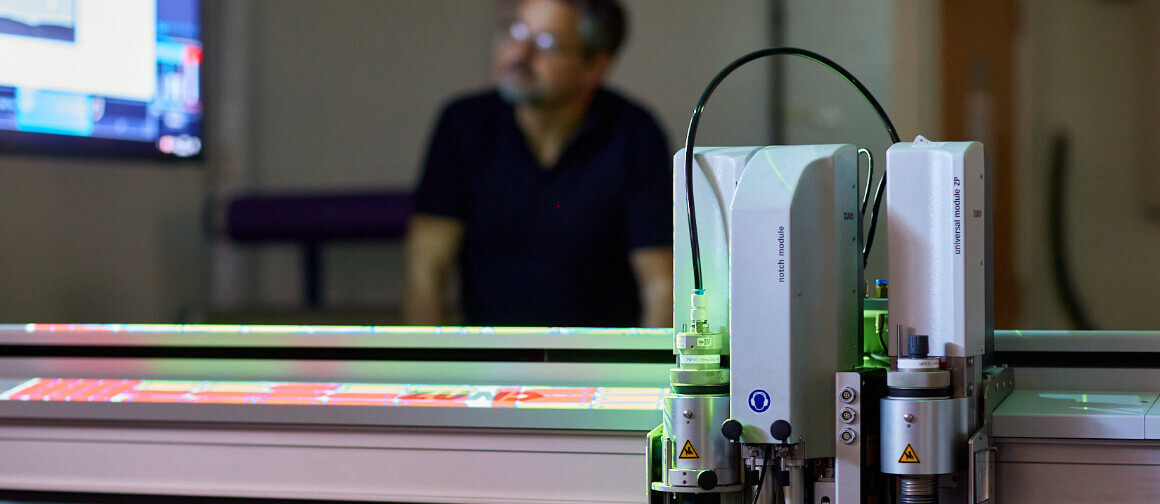 2 minute read
By wearecore
Leading at the Cutting Edge
As a leading manufacturer of personal carrying solutions for technology and security products, Peter Jones has invested in a state-of-the-art Zund cutting machine.
Prior to the introduction of the Zund digital cutting machine, the company used press machines to cut leather and textiles, a process that requires a machine operator to repeatedly position a tooled knife on the material and bring the press down to cut out the required pattern. It can be labour-intensive and rely on operator judgment for obtaining as many usable, quality cuts as possible. Morgan Jones, director at Peter Jones explained, "The potential for improving material quality, yield levels and increasing production capacity was very apparent when we saw the Zund machine in action".
The Zund unit allows material to be digitally scanned, plotted and the part patterns nested closely together to achieve maximum usage of material. Morgan continued, "One of our strengths as a company is the fact that customers can approach us to design and develop a bespoke solution for their needs, which after design and prototype approval, proceeds to full-scale manufacture. The Zund machine improves our versatility, speed, and efficiency, which means we can design, develop, and deliver new products sooner and more cost-effectively."
Peter Jones works with some of the largest technology manufacturers across the world and prides itself on combining an understanding of traditional skills with the latest innovations and technology. The investment, along with the support of Welsh Government's SMART Cymru scheme, will see the business go from strength to strength.
Peter Jones has already seen a significant increase in efficiency through the digitisation of the workflow. Material yield increased from 60% to 80% , and the 50% reduction in waste material is welcomed in the company's ongoing commitment to sustainability as part of its ISO 14001 accreditation. Morgan added, "Since the introduction of the Zund cutting machine, we have doubled our material cutting capacity and are now processing over 4,000 parts a day. Our customers will reap the benefits of this in the form of shorter lead times on orders and the speeding up of the design-to-manufacturing process of new products. Our Zund cutter also gives us flexibility to add new tools and technologies that will introduce new cutting and finishing techniques, such as creasing and laser marking."